Mook Lanta Eco Resort
Relax in our tranquil tropical gardens

Mook Lanta Eco Resort
Relaxing in any moment of your stay with us

Mook Lanta Eco Resort
Relaxing in any moment of your stay with us

Mook Lanta Eco Resort
Relaxing in any moment of your stay with us

Mook Lanta Eco Resort
Relaxing in any moment of your stay with us

Mook Lanta Eco Resort
Relaxing in any moment of your stay with us
---
Mook Lanta Eco Resort
---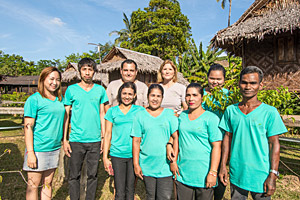 Our resort is located a mere 80 metres from Long Beach, which is over 2km long and one of the most popular on the island. We are situated on the beautiful island of Koh Lanta, which is based in the South West of Thailand, on the Andaman Sea and is still relatively unspoilt compared to many other islands in Thailand. But Koh Lanta has plenty to offer with SCUBA diving, snorkeling, boat trips, cave exploring, cookery classes, yoga and paddle boarding.
Our resort has 24 wooden bungalows which are built on stilts overlooking our beautiful gardens and there is a variety of rooms, to suit everyone from the lone traveler to a family. Whatever your budget we have a room to meet your needs.
Double and twin rooms are available in every design (except the Family Bungalow which has one double room and one twin room) and all can accommodate an extra bed (apart from the Cozy Fan Bungalow) at an extra cost.
Tucked into a small dip between the sea and the village, our resort is quiet and peaceful, yet only metres from the most southerly end of Long beach and walking distance to many bars, restaurants and shops in the village of Phra Ae.
Our cozy restaurant and bar is infamous on the island for our English breakfasts and has a laid back atmosphere, where you can enjoy a beer with the owners and some Western or Thai food amongst friends.
We have free Wifi for our guests all over the resort as well as free tea and coffee and water refills whilst reception Is open (7am – 7pm).