Mook Lanta Eco Resort
Relax in our tranquil tropical gardens

Mook Lanta Eco Resort
Relaxing in any moment of your stay with us

Mook Lanta Eco Resort
Relaxing in any moment of your stay with us
Getting Here
---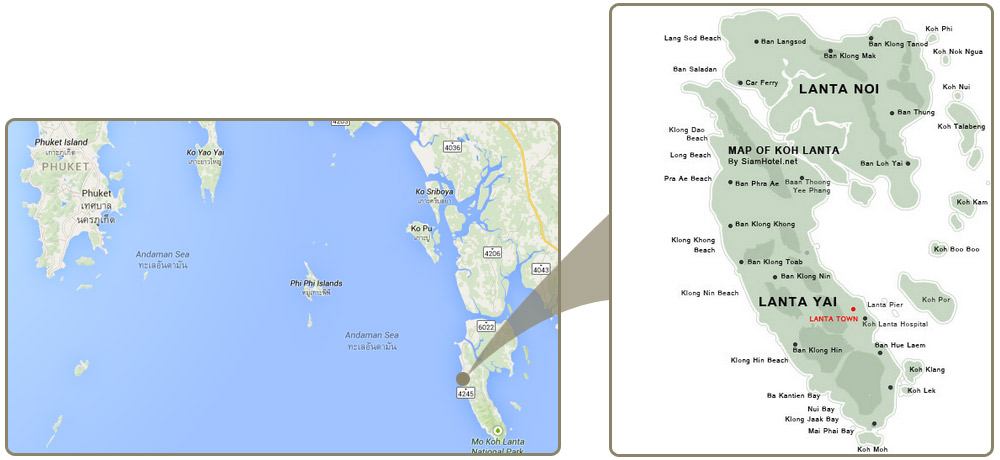 Koh Lanta is easy to get to from all over Thailand, it is located in the south west of the country and lies on the Andaman Sea. North of Koh Lanta is Koh Phi Phi and further north is Phuket. South of Koh Lanta there is the Trang Islands (Koh Muk, Kradan, Ngai) and further still close to the border with Malaysia is Koh Lipe. The nearest main city, and airport is Krabi, but Trang and Phuket also have airports that service Koh Lanta.
There are only 2 ways to get to Koh Lanta, by passenger ferry or by car ferry. If you come by the public minibus, taxi or a private car you will be driven to Hua Hin where a small car ferry will take the small journey over to Koh Lanta Noi (there are no hotels on this island). Since April 2016, we now have a bridge that connects Koh Lanta Noi to Koh Lanta Yai. Normally the crossing from the mainland to Koh Lanta Yai takes just under an hour but there can be, especially during busy holiday seasons, big queues for the car ferry. The car ferry run all year from 7am to 10pm, after this time, you can rent a ferry but it is expensive!
Estimated times from Hua Hin ( Mainland ) to:
---
| | | |
| --- | --- | --- |
| Krabi Airport | 45 minutes | |
| Krabi Town | 1 hour | |
| Ao Nang | 1 hour | 15 minutes |
| Trang | 1 hour | 30 minutes |
| Phuket Airport | 3 hour | 30 minutes |
| Phuket Town | 4 hour | 30 minutes |
Minibuses and taxis can be booked at the airport, but we can also arrange private taxis to be waiting for you when your plane lands. We will need at least 24 hours notice and your flight details to be able to do this. We are unable to book the minibus, but this is easy to do in the arrivals area of the airports. Please be aware that minibuses only run during the day (most will do their last journey about 3-4pm, so if you arrive later than that you will need a taxi or stay in Krabi for the night.
There are also passenger ferries that come to Koh Lanta. Most are only during High Season (October to end of April) but the Koh Phi Phi/Phuket passenger ferry does run in Low Season but this is dependent on weather and tourist numbers (generally there is only 1 per day).
Passenger Ferries available from:
---
| | |
| --- | --- |
| Koh Phi Phi& Phuket | 2 a day in High Season |
| Krabi | 1 a day in High Season only |
| Koh Lipe | 1 a day in High Season (start in November) |
| (includesTrang Islands) | |
All the ferries (apart from Koh Lipe, that occasionally piers at Old Town) arrive in the main town of Saladan. Saladan is about 10 minutes from our resort and usually costs less than 100 baht per person by tuktuk (taxi). All these ferries can be booked at your hotel or a local tour agency.