Mook Lanta Eco Resort
Relax in our tranquil tropical gardens

Mook Lanta Eco Resort
Relaxing in any moment of your stay with us

Mook Lanta Eco Resort
Relaxing in any moment of your stay with us
The Island
---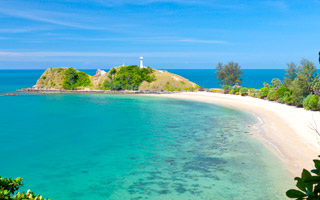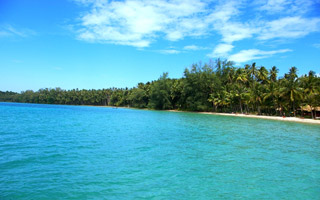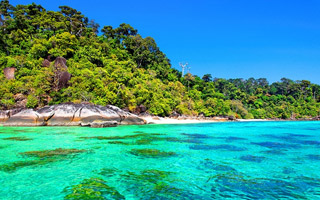 ---
Koh Lanta
Koh Lanta is a beautiful island which is much more laid back than most other islands of its size in Thailand. It is 35km long and 8km wide with over 14 beaches to discover. Most people choose to hire a motorbike to explore the island and you can easily get round the island in one day and, if you really like the bike, maybe take the car ferry over to Koh Lanta Noi to explore an even less touristy island.
Koh Lanta has 2 seasons, High Season and Low (Green) Season. High Season runs from October to the end of April, during this period there is some rain at the beginning of the season, but usually by December it stops raining and by the end of March we really need rain! Low Season is a variable season, usually it starts (end of May) with a few big rainy days and ends (September) in the same way, but you can expect plenty of sunshine and July and August are usually fantastic months. End of December to the End of January is a very busy time of year and we really recommend booking your stay well in advance and we are often fully booked!
Motorbikes can be hired from us, or from anywhere on the island, for about 250 baht per day. Make sure you check the bike before you take it and most places will want your passport as collateral,howeverwe do not. In our room guides there is a page on how to drive safely on the island, but if you rent a bike from us, we will go through the bike and driving it in detail with you, before setting you free! If you are not comfortable on a bike, we can help you rent a car or alternatively ask a taxi to give you a tour of the island, please agree the price first.
The west coast of Koh Lanta is the most touristy area of the island and boasts all the beaches and beautiful sunsets. At the most northerly point of Koh Lanta is the main town of Saladan, this is where most of the ferries arrive/depart and has many shops, banks and restaurants. We recommend lunch at one of the restaurants in Saladan that are on stilts over water, as you will enjoy the beautiful breeze and fantastic Thai food.
We are located on Phra Ae (Long Beach) which is one of the most popular beaches on Koh Lanta and only a 10 minute drive from Saladan. Our resort is at the most southerly end of this beach, which is over 3kms long and has many lively beach bars to enjoy sunset and beyond. We are in the village itself so you have plenty of bars, restaurants and shops within walking distance.
As you go further south, there are many beaches, but we would recommend a visit to Klong Nin, Kantiang Bay and the National Park, where you have a good chance to see wild monkeys.
On the other side of the island, is the much more traditional town of Old Town, which was the original main port on the island and is mainly built in wood. The Old Town is very pleasant and well worth a visit, with some more individual shops (Hammock House, handmade leather shops etc.) and some superb restaurants over the sea. The 2 biggest festivals on the island are celebrated here, Loy Kratong and Lanta Festival and Old Town is a must during this time.
Many people come to Koh Lanta, with the intention of travelling to many islands, however within a few days the chilled vibe and great atmosphere persuades them to stay much, much longer.