Mook Lanta Eco Resort
Relax in our tranquil tropical gardens

Mook Lanta Eco Resort
Relaxing in any moment of your stay with us

Mook Lanta Eco Resort
Relaxing in any moment of your stay with us
Room Rates & Reservations
---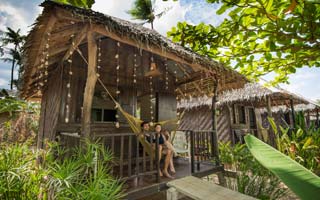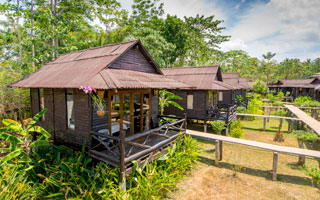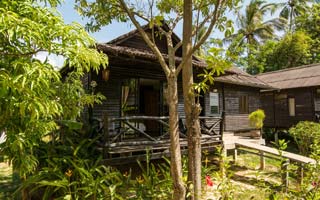 ---
If you would like to book a room, we recommend that you book direct with us for the best prices (we discount on bookings of 2 nights or more). The prices below include breakfast for 2 (4 if the family bungalow), but we can provide rates for a bungalow without breakfast if you prefer).
| | | | | | |
| --- | --- | --- | --- | --- | --- |
| | Low Season | Early High Season | High Season | Christmas Season | Peak Season |
| | 1st May – 30th Sep | 1st Oct - 31st Oct | 1st Nov – 15th Dec / 1st - 30th Apr | 16th Dec - 10th Jan | 11th Jan – 31th Mar |
| Air Con Bungalow | 1,050 THB | 1,550 THB | 2,050 THB | 2,650 THB | 2,450 THB |
| Cosy Fan Bungalow | 650 THB | 850 THB | 1,150 THB | 1,350 THB | 1,250 THB |
| Standard Fan Bungalow | 550 THB | 750 THB | 1,050 THB | 1,200 THB | 1,100 THB |
| Family Room | 1,900 THB | 2,800 THB | 3,400 THB | 4,600 THB | 4,200 THB |
| Extra Bed | 400 THB | 500 THB | 500 THB | 500 THB | 500 THB |
Reserve your Bungalow, Please fill out the form below
---
Remarks Resort:
---
• We are within 80 metres of the most popular beach on Koh Lanta, Long Beach but we are not on it.
• For the period of 21 December – 10 January a minimum stay of 3 nights is required, due to the high demand at this time of year.
• Rates are per room, all rooms are for 2 people except our family rooms that have two rooms (one double and one twin). Rates are inclusive of breakfast unless stated. All our prices include all taxes.
• An extra bed needs to be booked in advance and cannot be added to the Cozy Fan Rooms.
• A child under the age of 4 which the parents can be accommodated free of charge if they are sharing the parent's bed but this does not include breakfast.
• A baby cot maybe added free of charge, but you must pre-book to ensure it is available.
• You must have your passport with you to check in (Thai ID card if Thai)
• All payment should be in baht, we cannot take credit or debit cards, but can, take Euros and UK Pounds.
Check in-Check out:
---
Standard check-out time is 11am and check-in time is 1pm. For any booking that requires a late check-out please ask us, at reception, as this depends on availability, but is free of charge if we are able to arrange it. For any check-out after 6pm a full night's rate will apply.
Check-in prior to 1.00 pm is subject to availability. If you arrive later than 7pm, please inform us in advance as our reception is not 24 hours and shuts at 7pm but will stay open if you notify us.
Inclusive breakfast
---
Our inclusive breakfast is made to order and we have sourced tasty produce which is served between 7am and 11am. We have 3 options and can adapt the English and Continental for vegetarians. We have a small kitchen and whilst we will make every effort to accommodate diets, our restaurant can be very busy and cannot guarantee very specific dietary requirements. If you are unsure if we are able to deliver your requirements, email us or book the room without breakfast (you can add this later).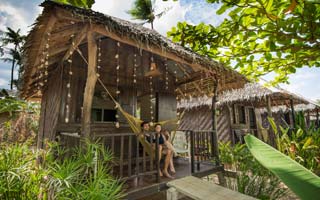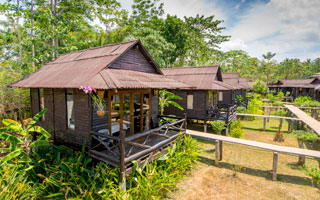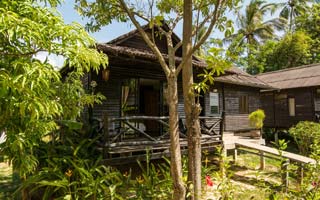 Breakfast options:
---
• English Breakfast – 2 eggs, 2 bacon, 2 toast with butter and jam
• Continental Breakfast – 2 eggs, 2 ham, 2 toast with butter and jam
• Healthy Breakfast – Muesli, yoghurt and banana
All are served with a glass of orange juice and you can help yourself to as much tea and coffee as you like
We have quite an extensive menu of breakfast extras you may wish to add, if you would like to add these to your breakfast, please do and we will add them to your room bill.
Private Taxis
---
We can organise private taxis from Trang, Krabi, Ao Nang and Phuket. If you are arriving at the airport, we will need your flight details and 24 hours' notice to confirm the booking. The prices are as follows:
• From / To Krabi airport 2,500 Baht
• From/To Krabi Town 3,000 Baht
• From / To Ao Nang 3,000 Baht
• From / To Trang Airport 3,500 Baht
• From / To Phuket Airport 4,500 Baht
Reserve your Bungalow
---
Please fill in the request form below if you would like to book any of our bungalows and we will reply within 24 hours. Outside of Peak Season, we normally require a deposit of one night's stay, but during Peak Season, we require 20% deposit, the easiest method for this is using Paypal. You do not need an account with them, but you do need a credit or debit card. The invoice you receive from Paypal is your proof of booking. We do have other methods of payment if you do not have a credit/debit card.
Cancellations
---
For cancellations outside of Peak Season, notification one week in advance will ensure the deposit is refunded (minus Paypal charges). For cancellations during Peak Season, two weeks' notice is required. No Shows or cancellations after this time will forfeit the deposit.